Food, museums, art, books, and other ingredients for life
Don't let the rain keep you from exploring the many wonders of Seattle. Cozy up with a good book or get lost wandering around the many shops downtown has to offer. You'll never run out of new restaurants to try or cultures to explore. The architecture of the city offers much to marvel at in addition to plentiful museums. Put on your rain jacket and delve into these seven reasons people love living in Seattle.
1. Traveling by Ferry
Grab a friend and take a ferry to a new place. The city touches Puget Sound, allowing for easy water travel to many neighboring locations, including Bremerton, Vashon Island, Bainbridge Island, San Juan Islands, West Seattle, and Victoria, British Columbia. Bring yourself, a bike, or your vehicle on the
Washington State Ferry
. A private ferry may also be another option for transport to different day trip locations.
2. Dining
• Altura
Partake in the Italian taster's menu at
Altura
off-Broadway in Seattle. This dining experience may take a few hours, so make sure you're not in a rush as they pair the wine with fresh ingredients.
• Musang
Nibble on lumpiang, pancit, or bistek other traditional Filipino dishes at
Musang
. Chef Melissa Miranda and her team bring culture and community together in this welcoming environment. They are currently available for patio dining or takeout.
• Off the Rez
Stop by the first and only Native food truck to sample the fry bread tacos with your choice of chicken, beef, pulled pork, or veggies. Order the fry bread plain or try a sweeter version with honey, cinnamon sugar, strawberry, lemon curd, Nutella, or seasonal jam. Check their
Facebook page
to see where they're currently parked.
3. Shopping
• Westlake Center
Westlake Center is a four-story facility with a 25-story office tower in the downtown area. The Center is near the Seattle Center Monorail, which makes for quick travel. You won't have to go far if you're searching for Macy's West or Nordstrom's flagship store.
• Pacific Place
Venture to 6th and Pine to access this 5-story upscale shopping space near Nordstrom. Pacific Place has a boutique feel with an art gallery, handmade showroom, and other mainstay retailers. Enjoy a movie or gorge on potstickers, wontons, or noodles. There's also clam chowder for those extra rainy days.
• Elliott Bay Book Company
Nestle into the smell of books and cedar shelves at
Elliot Bay Book Company
. Many well-known, established, and aspiring authors share their work in this space, which has been in operation for over 30 years. Order the books online and arrange to pick them up curbside if reading alone is your preference.
4. Seattle Central Library
Behold the glass and steel elements of the Seattle Public Library. Rem Koolhaas and Joshua Prince-Ramus were the main architects of this 11-story, 300,000-plus-square-foot library, which is home to one and a half million books and other items.
5. Seattle Japanese Garden
Stroll through the charming Seattle Japanese Garden, located in Washington Park Arboretum, and admire the koi fish. The garden was designed by Kiyoshi Inoshita and Juki Iida, and was slated to take three years to create, but it was constructed in just four months.
6. Art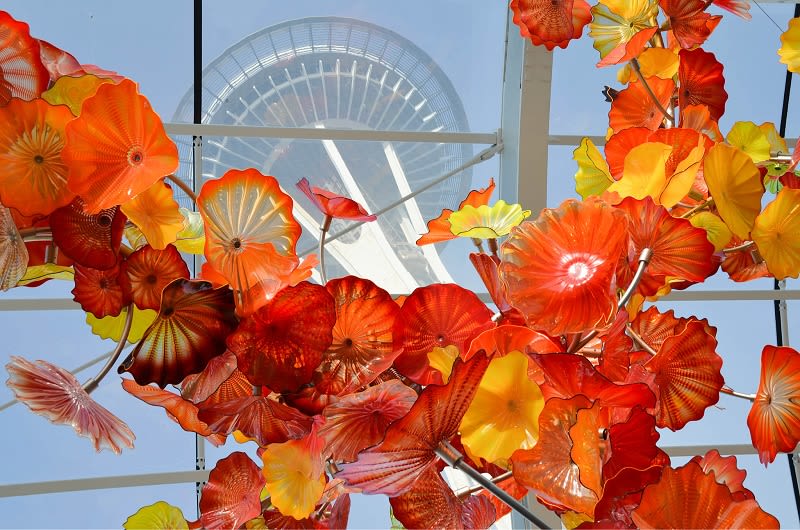 • Chihuly Garden and Glass
Get a glimpse of the glass-blowing work of Northwest artist Dale Chihuly. Take the spring bloom garden tour every Friday, Saturday, and Sunday, or watch a live demonstration with molten glass and its makers. Find ticket info about your trip to Chihuly Garden and Glass
here
.
• Seattle Art Museum
The Seattle Art Museum (SAM) showcases work from Africa, Ancient America, Ancient Mediterranean, Islamic, European, Oceanic, American, and modern, contemporary pieces. Purchase
tickets online
.
• Seattle Asian Art Museum
Appreciate artistry from China, Korea, Japan, India, the Himalayas, and additional Southeast Asian countries at Seattle Asian Art Museum (SAAM). This museum opened to the public in 1994 and features a large gallery, which changes out its pieces every six months.
• Museum of Pop Culture
Admire musical instruments in the Guitar Gallery from artists including Woody Guthrie, Eric Clapton, Muddy Waters, and Nancy Wilson at the
Museum of Pop Culture
. Peek at props from Back to the Future Part II, Harry Potter, and Buffy the Vampire Slayer. Some future exhibits include Heroes and Villains: The Art of the Disney Costume and Rise Up: Stonewall and the LGBT Rights Movement.
7. Pike Place Market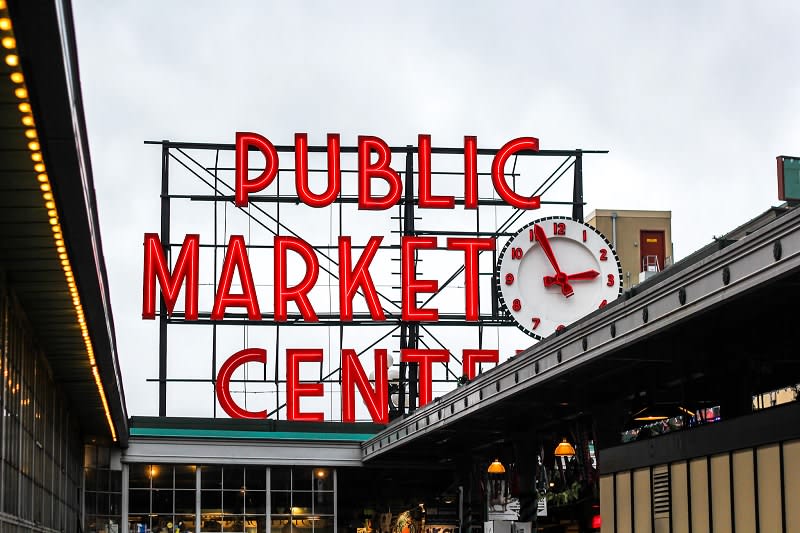 Pike Place Market connects farmers, artisans, and merchants in one central space. The market is one of the oldest continuously operating markets in the US and opened in 1907. Watch anglers throw the fish at the world-famous
Pike Place Fish Market
.
Seattle Living
Contact
Charlie Du
for more information regarding Seattle real estate.